Hello Lavender Legacy Team!
I can't believe it's already JULY! Wow this summer is flying by! I hope you all had a safe and happy fourth. I am so excited to share with you all of the wonderful things we have going on in our group this month. 
First of all, incase you missed the memo last month, Young Living just released a TON of new products!!! Acne treatment cream, natural 100% plant based SPF 50 sunscreen, mascara, activated charcoal soap, new lip colors, kids pre/probiotic and so much more. Starting this month, you can add the new products to your Essential Rewards order. Yay! To see the whole listing of new products, head over to the Young Living Website.
Also, if you're planning to join us for Grand Convention 2019- grab your ticket by July 15th and and you'll be entered into a raffle to get it for free- just be sure to let us know so we make sure we include your name in the drawing! To get your ticket and for all the details on Convention, go here: shorturl.at/Z0478
We go every year and learn new stuff each time- it's absolutely eye opening and life changing, to say the least!
TEAM LIVE YOUR PASSION RALLY 
 : On July 14th, Young Living members around the world are gathering for the quarterly Live Your Passion Rally. We are hosting a Lavender Legacy Team rally locally in Farmington, MI, and we'd love to see you there. You'll get to try the new products, eat some yummy food, have fun, learn at various product stations, and so much more! It's always a blast and we'd love to see you. To get tickets and more info, visit our event page by clicking here: shorturl.at/lvyU8
If you're not local- we encourage you to find an event near you! You can search Live Your Passion events in your area here: shorturl.at/DQY58
Next, let's about chat the Young Living freebies!!! Every month Young Living gives you FREE products when you hit certain order minimums. When your order is an Essential Rewards order, you get even MORE free stuff. They are so generous! You can get many of these freebies up to 2x in one month, by placing one 300PV quick order and a 300PV ER order.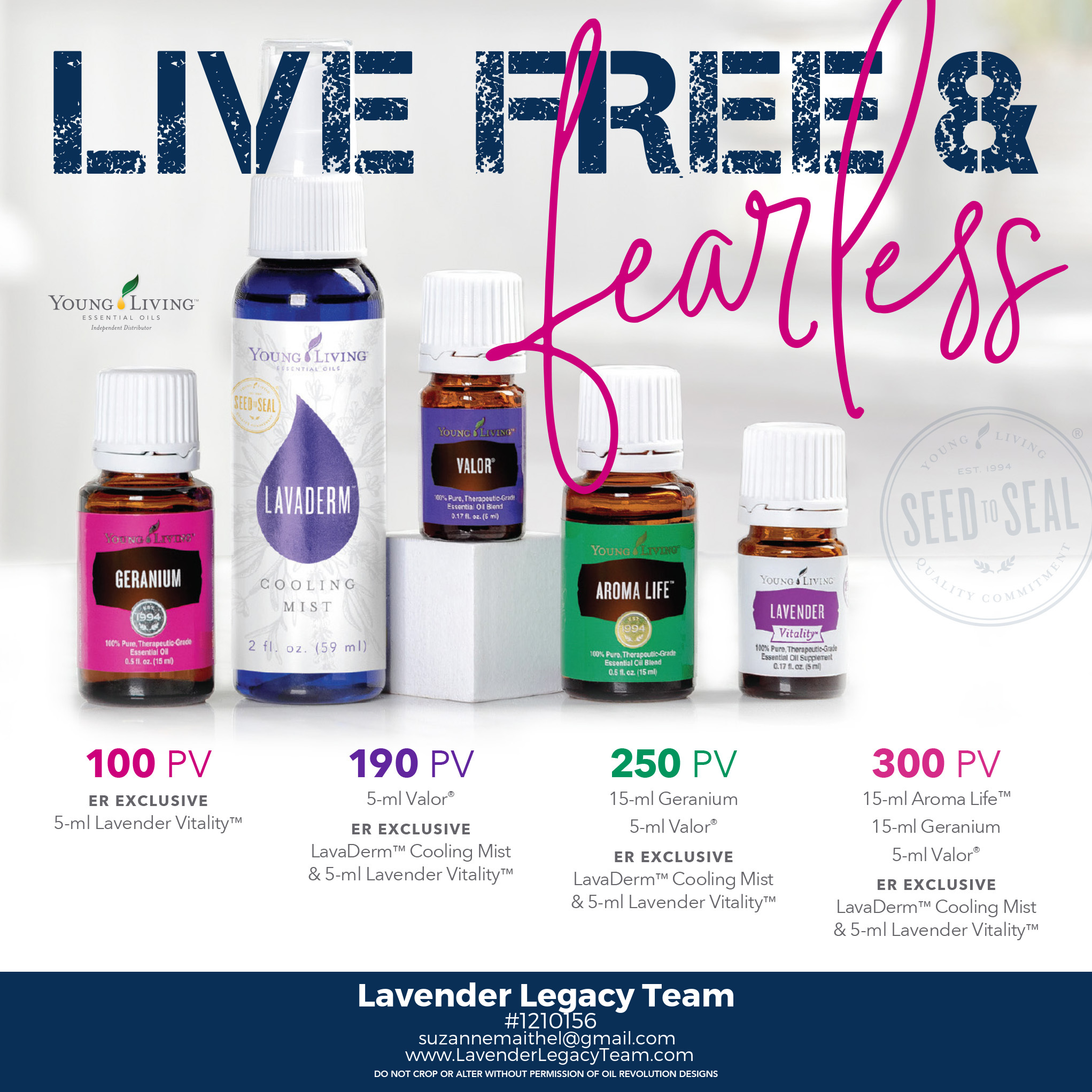 100 PV ORDER - LAVENDER VITALITY (ER Exclusive)
Lavender is our swiss army knife of oils and I'm so glad it's free again this month! Here are some of my favorite ways to use it:
- take lavender vitality along with peppermint + lemon vitality in a capsule for seasonal support.
- use lavender vitality to make a yummy lavender lemonade (Recipe here: shorturl.at/krxP3 )
- apply lavender on skin to soothe occasional irritation or itching in the summer
- diffuse lavender at night to support a good night's rest
190 PV ORDER- Get Lavender Vitality AND 5 mL VALOR AND LAVADERM SPRAY (Lavaderm Spray is ER Exclusive)
VALOR- oh my, it has been a LONG time since this has been a promo item! This is a YL member favorite- in fact, it was out of stock for a LONNGGG time because of it. It's great to rub on your back, neck, and shoulders after a long day. I also like to put it in my diffuser necklace or rub on my wrists, as it promotes confidence too! The Roman Soldiers used to put a similar blend on the cuff of their armor to help them as they were going into battles...pretty cool history! 
LAVADERM SPRAY- This is a MUST have for the summer. It's an aloe-based spray with essential oils, and is extremely soothing to the skin, particularly after a long day in the sun. You can also substitute this for the Savvy Minerals misting spray!
250 PV ORDER- Get Lavender Vitality AND 5mL Valor AND Lavaderm Spray AND 15mL GERANIUM!
GERANIUM: This is one of my favorite oils to diffuse or wear in my necklace because I LOVE the sweet, floral smell. It's a very uplifting smell. It's also GREAT for your skin (you'll see it in many of our skin products!), emotional balance, and hormone support! I like to throw it in my diffuser at night with some lavender and/or cedarwood.
300 PV ORDER- Get Lavender Vitality AND 5mL Valor, AND Lavaderm Spray, AND 15mL Geranium, AND 15mL AROMALIFE!
AROMALIFE: is a blend of Cypress, Marjoram, Ylang Ylang, and Helichrysum. It's made to help support healthy cardiovascular function by supporting healthy blood pressure levels, as well promote healthy lymphatic and circulatory systems. Apply it topically over your heart directly.
The retail value of all the above is $207.23- that you get for FREE when you order 300PV on Essential Rewards. It blows me away how much this company gives back! That doesn't even take into account that you're getting 10-25% back on your Essential Rewards order as well. I love it! When I get my Ningxia, Oils, Supplements, Shampoo, Body lotions/washes, dish soap, cleaners, laundry soap, facewash, and makeup all through Young Living, it doesn't take long to get to 300PV- and I'd much rather buy it through Young Living where I know it's all toxin free AND I'm getting a bunch of freebies back! 
If you're new and aren't familar with Essential Rewards, you can watch a quick video about it here: shorturl.at/kst15
Basically, it's AWESOME and is hands down the most economical way to start detoxing your home AND get a bunch of freebies and goodness in the process.
 You can place your first essential rewards order today by signing into your account on the Young Living website and clicking the "Essential Rewards" tab, or give YL a quick call at 800-371-3515 and they can help you!
.
GET ENTERED TO WIN AN EXCLUSIVE, RARE ROLLERBALL of ROSE, KUNZEA, SACRED SANDALWOOD, or JOURNEY ON!!!!!!!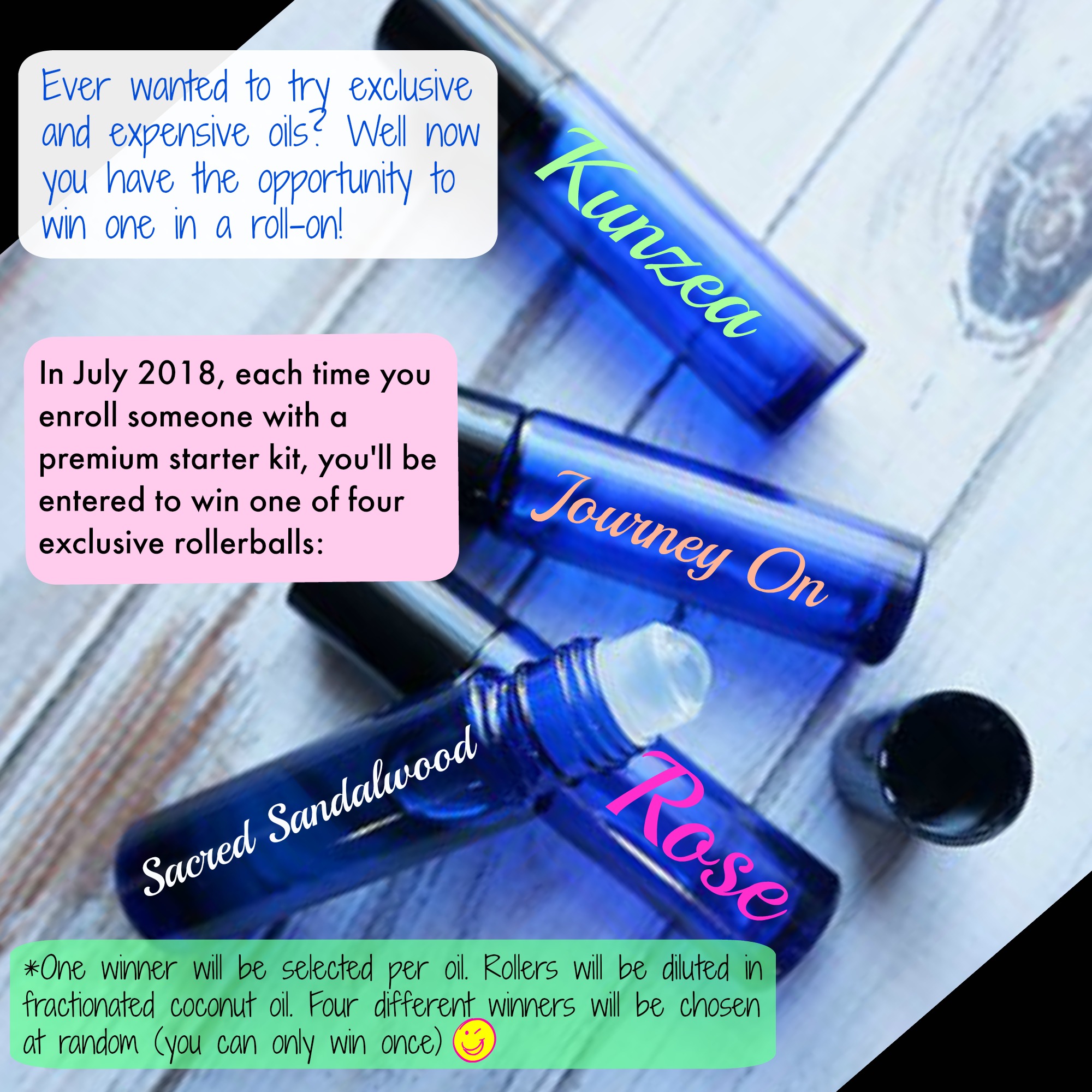 Okay friends, listen up! You want to read about this. Ever heard the phrase "sharing is caring!?" Well, it's true! That's how we feel when we share Young Living with someone else. We share because we care, and because we want better for our friends and family then for them to continue to be using harmful toxin filled products! This month, when you help someone enroll with a Premium Starter Kit (using your member # as a the referral number) by introducing them to the Young Living lifestyle, not only will you be helping THEM, but YOU will automatically be entered into a drawing to win one of these rollerballs! These are AMAZING and are a great way for you to experience and oil that you might not normally buy!
We will announce the winners in August on our team Facebook Page!
Well, that's it for July announcements, friends! This is going to be an awesome month. So thankful to be on this journey with each of you! 
xo
The Maithels
Your Young Living Gold Support