I cannot believe it is already JUNE! Summer is finally here! There is so much happening in our group this month and I cannot wait to share it with you! Let's start with the promos from Young Living!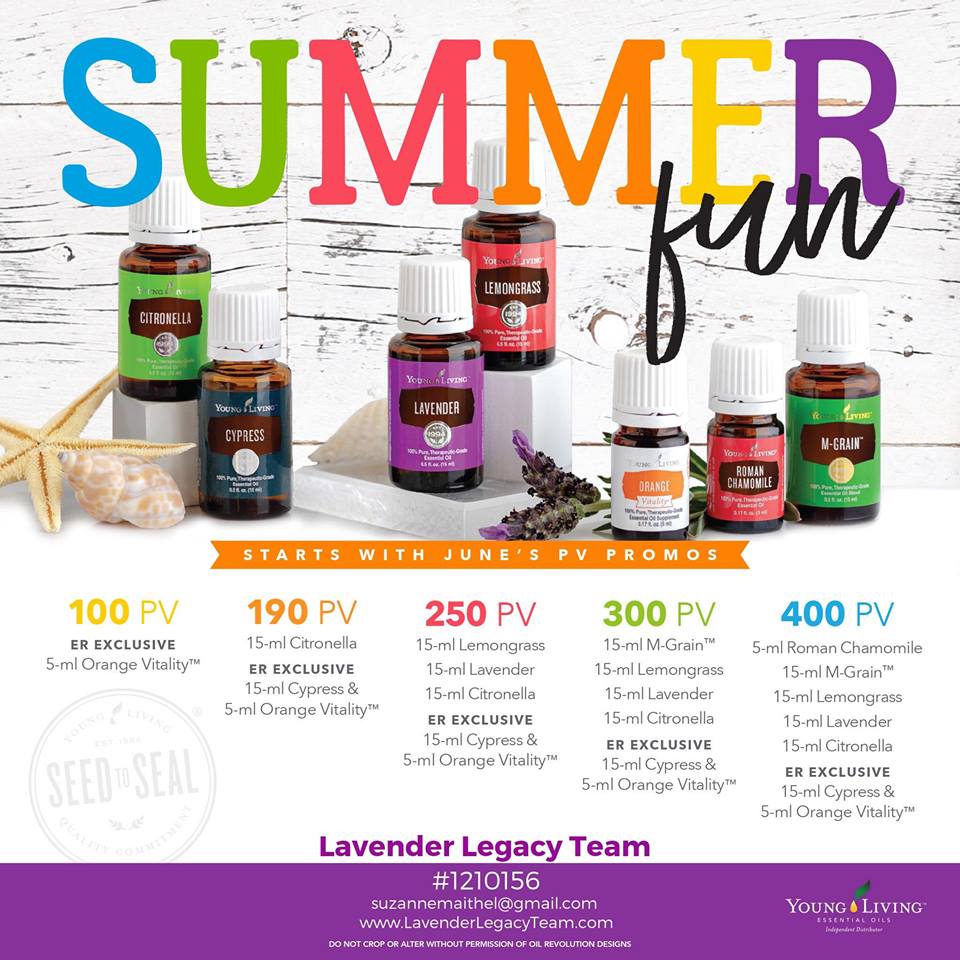 Friend, YL is going above and beyond again: ROMAN CHAMOMILE!!! Why am I so excited about this?! This oil has been OUT OF STOCK since early 2017. It was back for a second and now it's FREE this  month!! Yes, you heard me right! Who else has been waiting for this?
Here we go:
5mL Orange Vitality (ER Exclusive): This oil is super high in the d-limonene (seriously google the benefits right now!). I love the taste of it in my Ningixa Shot in the morning, and I also like to diffuse Orange with Thieves or Peppermint for an uplifting, air purifying, and immune supporting blend! If you or your kiddos are having a rough day, put some orange on! Also I like a drop on my toothbrush as a natural teeth whitener. Tastes yummy too- especially with the Thieves Aromabright Toothpaste!
Citronella 15 ml: Okay friends, we are headed into summer. BBQ's. Backyard games. Bonfires. Camping. Need I say more why YL is giving you Citronella this month?
Mix this with some purification + peppermint and enjoy the outdoors annoyance free! Citronella infused candles are easy to make and you can keep them outside to enjoy evening dinners in your yard annoyance free. 
15mL Cypress (ER Exclusive): One of the oils of ancient Scripture AND one of our Raindrop oils! It's calming, soothing, and can ease the feelings of loss and create a sense of security + grounding. Also, it can sooth the respiratory system + promote healthy blood circulation when applied topically....anyone going on any long flights this summer?? Rub this on your legs!
15mL Lemongrass: Okay ya'll. This one is a powerhouse. It's INCREDIBLY powerful for supporting immune health. Also it's really good at supporting those joints & ligaments! Rub a little carrier oil + lemongrass on your neck and you'll thank me later! Your lymphatic system will also love lemongrass vitality. 
15mL Lavender: The Swiss Army Knife of Oils, Lavender does EVERYTHING. I diffuse this every. single. night. in my diffuser. It's great for your skin, esp after along day in the sun. Babies and kids love lavender too! I know a lot of our oily pets use this and it's great to have on hand for stressful situations like the 4th of July. I go through at LEAST a bottle a month.
15mL M-Grain: If you haven't noticed, YL likes to get creative with these names! This is a powerhouse blend that is great to apply to your head + temples 24/7. Basil + Marjoram + Lav + Roman Chamomile + Peppermint + Helichryum..WOW!  If you have some occasional tension, it will offer you some sweet relief.
Roman Chamomile 5ml: Best for last! Gone since early 2017 and even then it was only in stock for a second, this oil has been used for centuries by mamas to calm crying and fussy babies. This oil is incredible for children and for adults…all the calm. It helps to relieve stress and dispel anger and can even allow us to start letting go of past emotions that are holding us back. It's also AMAZING for your skin. If you love the Tranquil roll-on, THIS is why. No one knows how long this will be back in stock so don't wait!  And um… you know some of us will be getting this oil for free TWICE.
This PROMO's are some of the best I have ever seen and they are valued at over $220!!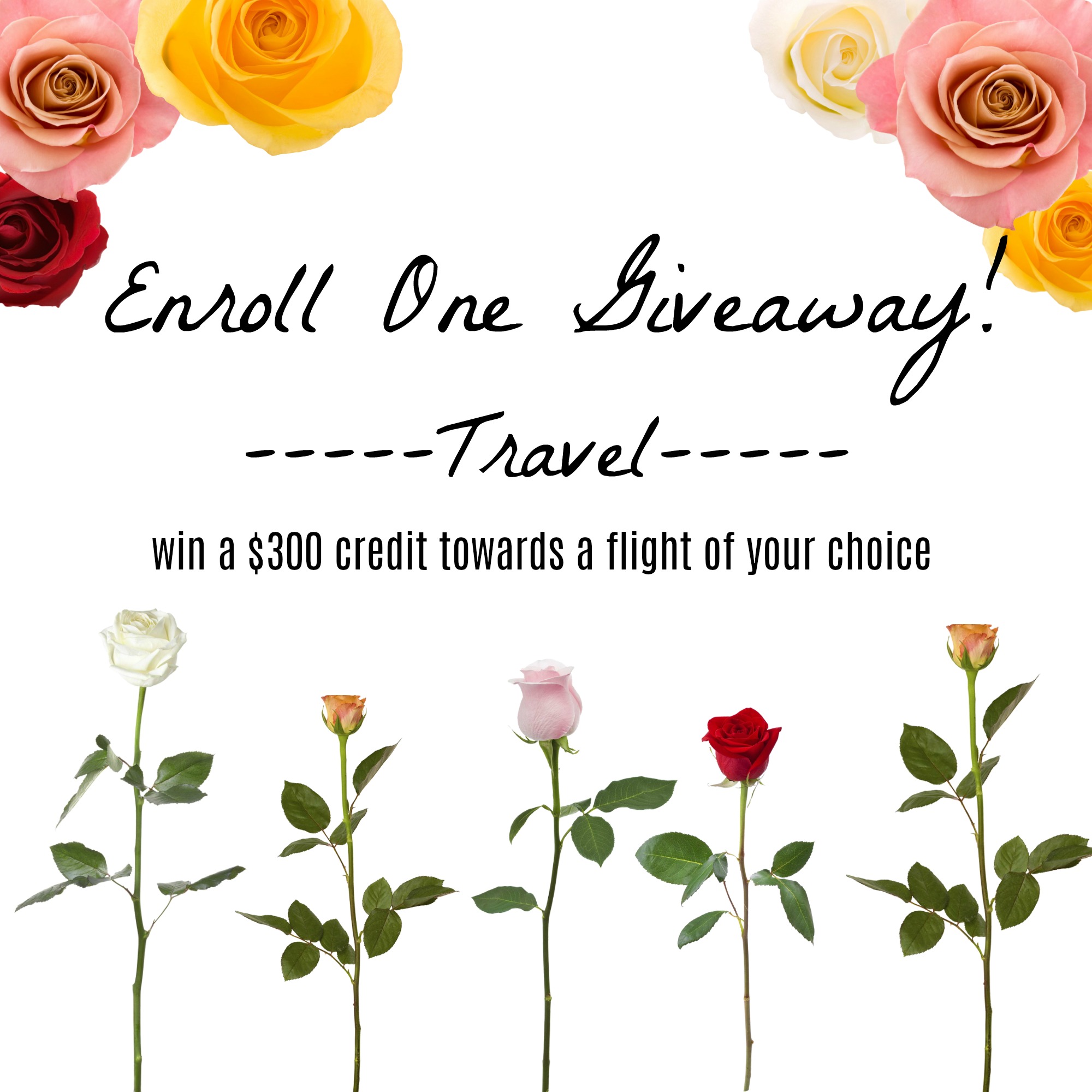 ENROLL ONE GIVEAWAY!
WHO WANTS TO WIN $300 TOWARD A PLANE TICKET OF YOUR CHOICE!? Yes you heard me right! We are giving a FREE flight (up to $300) for one lucky winner! All you need to do to get entered is help ONE person get started with a Premium Starter Kit with Young Living this month!
Did you know that we have nearly 1,000  members on our team?? That is 1,000 families who's lives are better thanks to YL. We are SO thankful to have EACH of you on this team and to be on this journey with you. Can you imagine if each of us shared with ONE new person this month? We would have 2,000 members experiencing these life changing products!
Make it a goal to share with friends and family about these awesome products this month and have them sign up using your member number! When you do this you will get a thank you check from Young Living of $50 when you also buy 50PV- It's the best thing ever! You can learn more about sharing YL in our Legacy Builders Facebook Group or the pinned post on the Lavender Legacy Team FB group! It's totally okay if you aren't interested in the business side full time, but you can share with one or two people a month and still get your oils paid for.
Signing up a friend is easy! Simply refer them over to Young Living's Website and have them sign up the same way you did, but with your member # as the sponsor and enroller. Feel free to reach out to any of us upline leaders if you need any support in signing up a friend!
You are automatically entered each time you refer a friend to get a Premium Starter Kit!! We are so excited to help more families get healthy this month!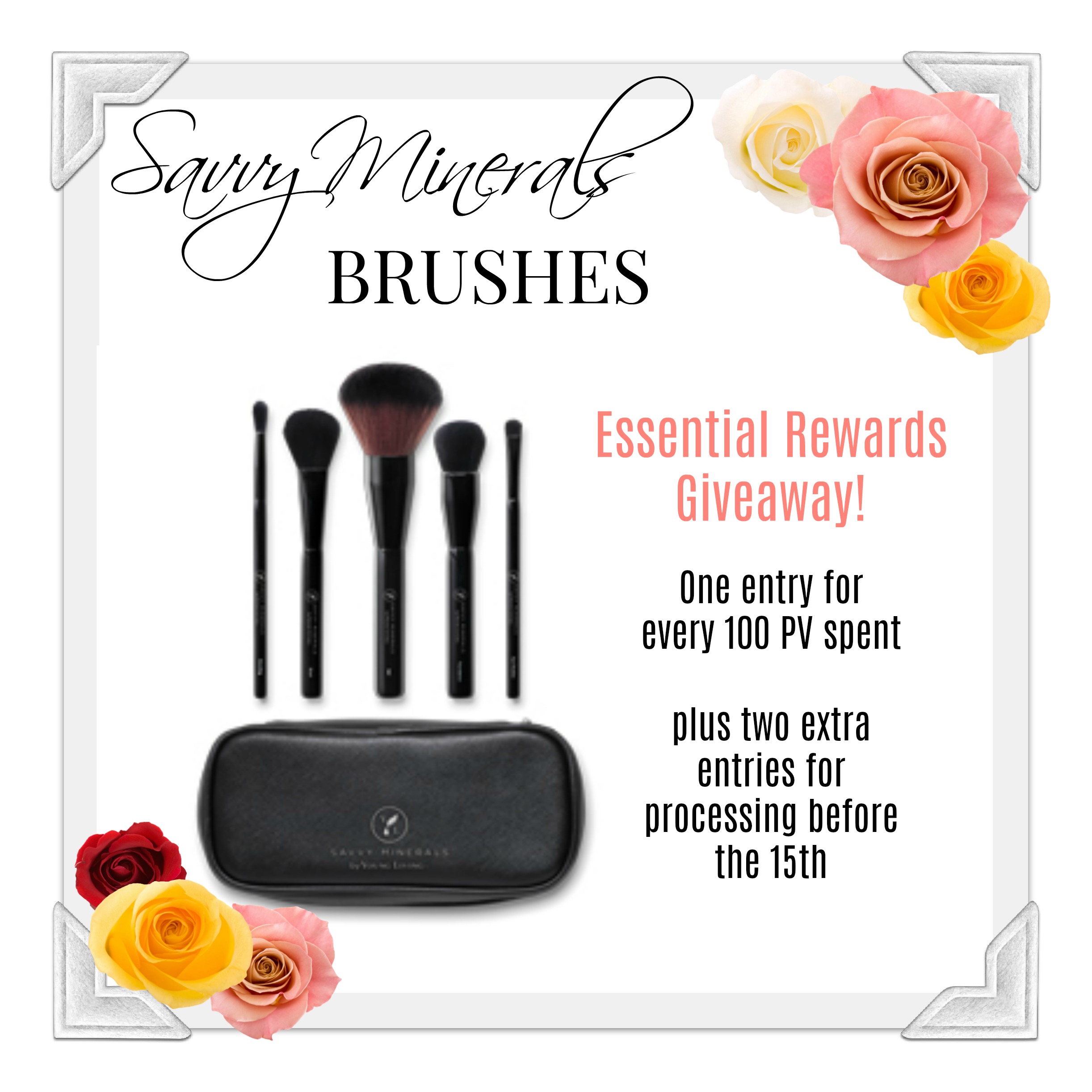 ESSENTIAL REWARDS GIVEAWAY
This giveaway is for our Essential Rewards Members! To enter you need to be enrolled in Essential Rewards and place your order sometime during the month of June! We are giving one lucky winner a SAVVY MINERALS BRUSH SET ($85 member value). This brushes are some of the highest quality makeup brushes on the market....if you don't have them, they are like cotton candy on your skin and your Savvy Minerals is applied BEAUTIFULLY!
You get 1 entry for every 100pv you spend on your ER order! (Ex. 100 pv entry = 1 entry, 400pv entry = 4 entries, etc.)
You get 2 additional entries if you process your order before the 15th!
I LOVE Essential Rewards so much. It's one of my fav things about YL! It's our family's one-stop-shop for all things toxin free! You get tons of freebies, cheaper shipping, rewards points, gifts, and more. You can start or stop anytime and you're not tied down to anything- super stress free!
I recommend tyring the non-toxic cleaning, laundry soap, Ningxia Red (so much energy and immune support), shampoo, make up, baby care stuff, and more! 
You can sign up on Young Living's website or call 1-800-371-3515!
Here is some more info on Essential Rewards: https://www.youtube.com/watch?v=WSW5cXslmKw&t=31s (you'll need to copy and paste the link into your browser).
Please don't hesitate to reach out and ask any questions!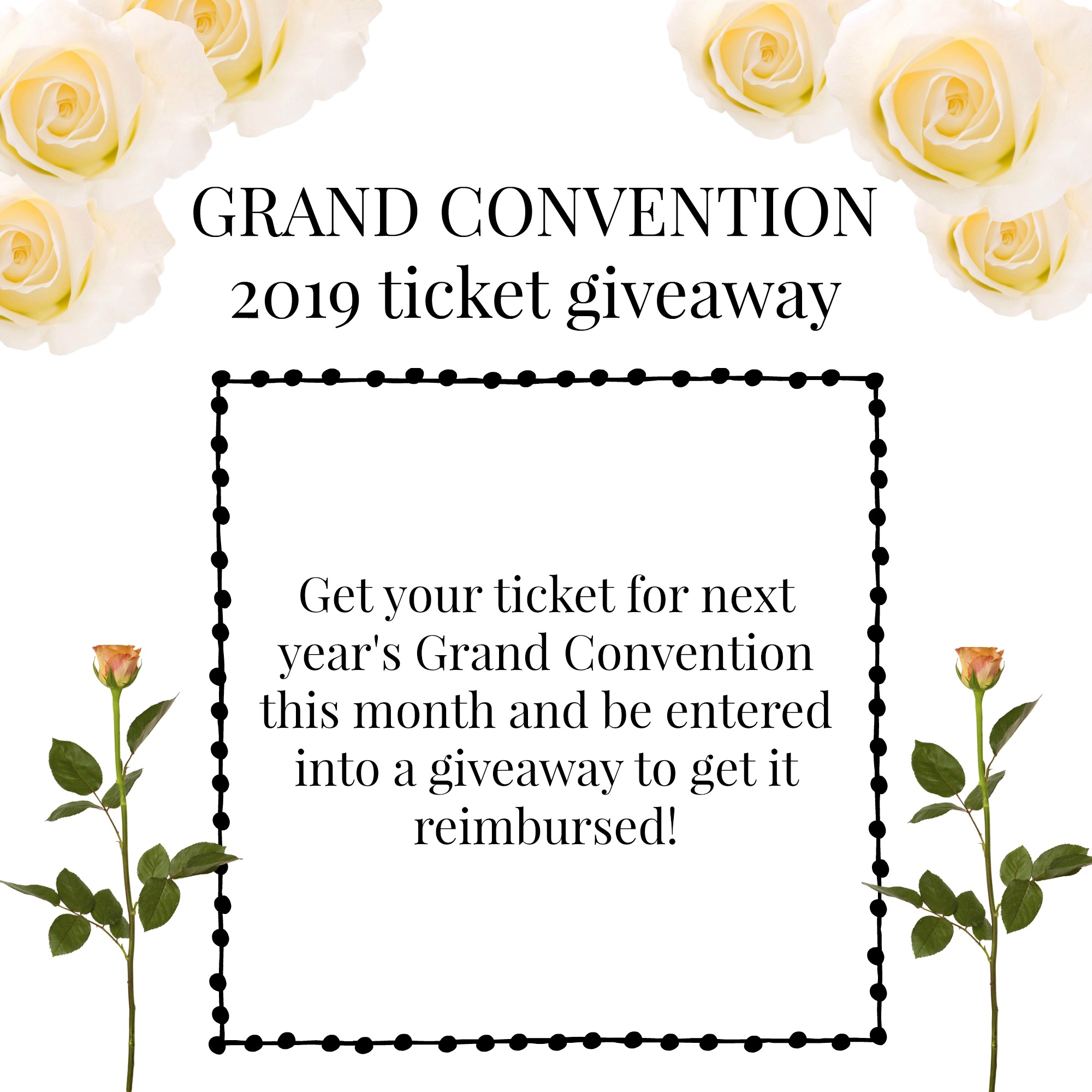 GRAND CONVENTION 2019 PROMO
It's Grand Convention month!!! We are SO thrilled to be going with about 15 of our LLT friends to Salt Lake City in just a week or so! Grand Convention is the biggest YL party of the year, and we are excited to leap in the Lavender Fields and hear about all the exciting things happening in the world of YL! Be on the lookout for some pretty exciting product launches!
We want a ton more of you to join us next year- the more the merrier! SO when tickets are released this month, if you get a convention ticket in June 2018 (this month) for Grand Convention 2019, you will get entered into a raffle to get the cost of your ticket reimbursed!  :DJust be sure you contact your active upline or let us know so we can make sure you get entered!
ALSO if you are a NEW member, WELCOME! Be sure you go over to the pinned post on the Lavender Legacy Team Facebook group and go through the table of contents. There are SO many resources availble to you there to help you learn how to use your new oils better! If you don't know how to access that, contact the person who enrolled you and if they don't know, then reach out to us and we will get you plugged in! We are so thrilled to be on this journey with you!
Much Love,
The Maithels
Lavender Legacy Team